Talkook Border Leicester ram sale tops at $1300, av $841
By Hannah Powe, Oct 2019 – Link to article
THE Anderson family of Talkook Border Leicester stud sold rams to a top of $1300, twice, today at their annual ram sale held on-property at Mt Pleasant, Crookwell.
Overall 33 rams of the 37 on offer were sold for a 89 per cent clearance and $841 average. In the breakdown five of six specially selected rams were sold to a top of $1300 to average $1060, while 28 of 31 flock rams were sold to a $1300 top and $811 average.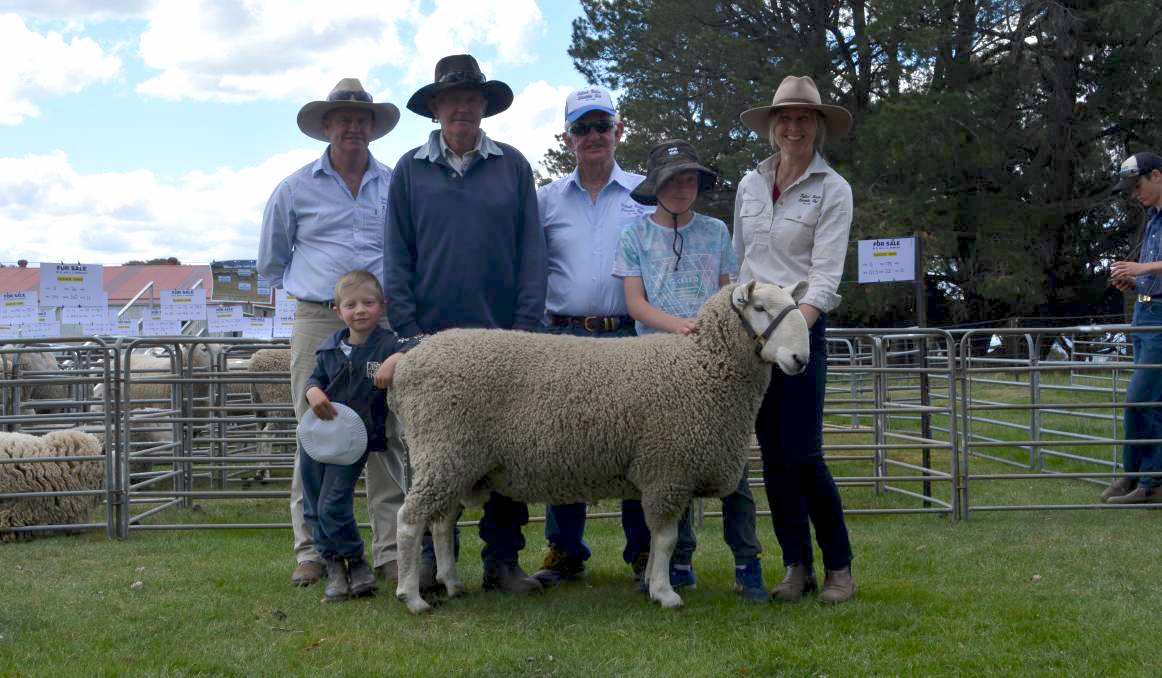 Regular clients Robbie and Susie Anderson from Box Hills Pastoral Company, Narrawa, bought both the sale-topping rams for $1300 each.
The first, Talkook 178 was a twin-born September 2018-drop ram sired by North South 16/2016 and out of Talkook 53/2016. He weighed 121.5 kilograms with a YCF of 12 and yearling eye muscle depth (YEMD) of 52mm.
Vendor Scott Anderson said the equal top-priced ram was in and out of the Talkook show team this year.
"He is one of the better fine woold Border Leicester rams Talkook has had come through this year," Mr Anderson said.
Talkook 176 was the second $1300 ram the Andersons bought. The twin-born flock ram weighed 120kg, with an YEMD of 47mm, a YCF of 11 and a micron of 36.
Annually joining around 600 ewes to Border Leicester rams, buyer Susie Anderson said it was good to see a focus on eye muscle as well as fine wool.
"There is a premium for wool if you can keep it below the 25 micron, and by testing for both eye muscle and wool … you can see you can breed for both," she said.
"It is good to see Border Leicesters now focus on wool and muscle … we have been on it for a while."
The Andersons bought a total of three to average $1200. They also bought four rams on behalf of Brian Anderson, Crookwell, for a $825 average.
David Reeves and son Jackson, 5, of Biagrab, Grabbengullen, were the major volume buyers that snapped up 12 rams for a $758 average.
Annually joining 1200 ewes to Merinos and 1200 ewes to terminal sires, Mr Reeves said he has been purchasing from Talkook for the past two years.
"We were looking for long rams with good eye muscle. Its really about length because thats what gets more weight and money in lambs," he said.
New buyers James and Tom McCormack from Red Hill Pastoral Company, Crookwell, purchased four rams for $1000 each.
Schute Bell Goulburn bought five rams for a $900 while LP. and SE. Branson, Binda, took home six flock rams for $700 each.
The lead ram of the sale described by auctioneer Greg Anderson from MD. and JJ. Anderson, Crookwell, as a "cracking ram" was passed in at $2000 and will now be retained for stud use at Talkook.
Talkook 46 was an impressive single-born ram that weighed 139.5kg and had the largest YEMD in the sale measuring 56mm.
The sale was conducted by MD. and JJ. Anderson, Crookwell, with Greg Anderson taking bids as the auctioneer.