Border Leicester Ram Is Supreme Longwool
March 12, 2020 – article at Agtrader
The Anderson family from Talkook, Crookwell were jubilant in taking supreme longwool exhibit
The Anderson family from Talkook Border Leicesters, Crookwell were understandably jubilant when it was announced their Border Leicester ram had been judged supreme longwool exhibit of the 2020 Royal Canberra Show.
"It is our first supreme longwool here in Canberra," Kylie Anderson said. "We are absolutely thrilled, we are very excited about it."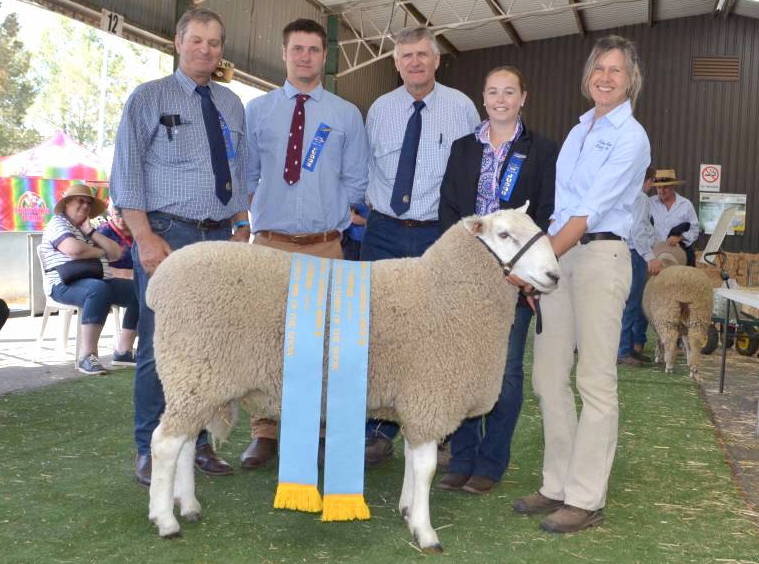 Longwool breeds represented for the supreme judging included Border Leicesters, Corriedales and Black and Coloured.
Judges were Graeme Golder, Gordon Forsyth, Katrina Abbott and Robbie Harper.
Will Gibson, who had judged the Black and Coloured classes, had to return to New Zealand.
The Border Leicester had been judged supreme longwool ram and was noted by breed judge Graeme Golder, Tegra Border Leicesters, Temora as a very good sheep when he was coming through the breed classes.
"He is well grown and balanced for a big sheep with a lot of very good wool," Mr Golder said.
"In his classes I thought he was a very nice sheep and I still think so now he is supreme longwool ram and supreme longwool exhibit."
Mrs Anderson said the supreme ram was by one of their leading sires, Talkook Mountain.
"He wasn't a great show sheep but he is definitely breeding top sheep in our family stud at Crookwell," she said.
"Talkook Mountain is putting phenomenal eye muscle, length and stretch in our sheep."
Mrs Anderson said the supreme longwool was a good example of the genetic strength of Talkook Mountain.
"We like this ram for his incredible balance and wool quality," she said.
"He has a very good conformation and like the judge said he has a very sirey outlook."
The family were not sure about future showing opportunities for the supreme ram but would definitely be using him as a sire in their stud.
When it came to judging the ewes, the Corriedale entrant bred in the Badgally stud at St Gregory's College, Campbelltown was awarded the supreme longwool dam of the show.
The Corriedale matron had been successful in the two years and older class and impressed breed judges Gordon Forsyth and Katrina Abbott for her balance and very even fleece.
Edward Stefanski, agriculture teacher at St Gregory's College and leader of the schools show team, said the students were very happy with the result having put in a lot of hard work in attending to the preparation of the show team.
Mr Stefanski said the school supported the breeding of the Corriedale stud as a means of educating their students in the art of animal husbandry and breeding.
"Being a dual-purpose breed we can educate the students on wool and carcase," he said.
"The breed has great temperament and it is great for the boys to learn about the care for animals as many do not come from a farming background."
Mr Stefanski said the ewe was a daughter of Roseville Rocky and her dam, Badgally 13.11, had been a supreme schools exhibit in Sydney.
"We like the stylish wool she is growing, well defined crimp and long staple length with lustre," he said.
"She stands correctly and has a beautiful Corriedale head, traditional traits we want to keep in the breed."